Whitworths extends Shots range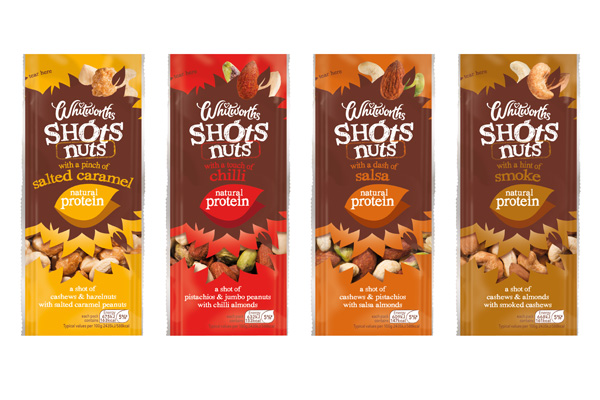 Snack brand Whitworths has extended its Shots range with the launch of Shots Nuts, to meet rising demand for healthier snack options on the go.
The new line combines natural nuts mixed with nuts with natural flavouring to offer consumers a protein-rich snack with a savoury or sweet taste.
Phil Gowland, Whitworths marketing director, notes, "With the sensational growth of Whitworths Shots in the last year and the rise in demand for snacking nuts, Shots Nuts aims to fulfill a gap in the market and offer consumers a more interesting and tasty alternative to traditionally healthy nuts snacks.
"As with the original Shots range, we want to make it easy for consumers to enjoy high quality, nutritious snacks and make better choices in their diet where ever, and whenever, they need."
Whitworths Shots Nuts will be available in four flavours: Touch of Chilli, Dash of Salsa, Hint of Smoke, and Pinch of Salted Caramel. The 25g portions will include one quarter flavoured nuts and three quarters of mixed natural nuts.
The range launches in Morrisons from 27 July for a RRP of £0.79.