Protein to the rescue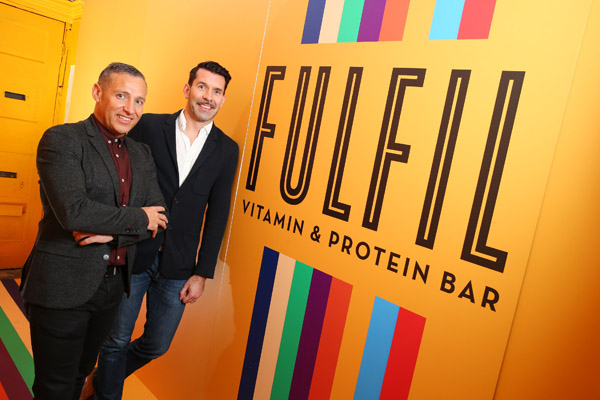 Fulfil founders Tom Gannon and Niall McGrath discuss what makes their protein snack bars thrive in a highly competitive market.
What is the background to the brand?
Tom and I were originally work friends with a lot of shared interests, especially fitness and health. In 2014, Tom went on a health journey where he was working out regularly and eating protein bars as snacks between meals, but he hated the texture and taste of them. One Saturday morning, I was watching Nickelodeon with my children and saw an advert for a chocolate bar making kit – I knew I had to buy one and see if Tom and I could make a healthy and tasty protein bar to fill the gap on the market.
Two years later and with the help of nutritionist Professor Gareth Williams and Olympian David Gillick we had a great tasting bar with benefits; with Fulfil launching in January 2016, the rest as they say, is history.
What types of outlets do you sell through and do you plan to expand this?
In the UK, we're listed in 387 WHSmith travel stores and 300 Holland & Barrett stores – both are completely different propositions, which is a good demonstration of the appeal of the range of bars we produce.
Our UK plan is based on targeting convenience, forecourt and health stores, appealing to those on the go consumers looking for a healthier, better for you snack.
Who is your target consumer?
Our target consumer is a health conscious, on the go person who is looking for low sugar, low calorie snacks without sacrificing taste. With the benefit of a full multivitamin and 20g of protein, Fulfil is the perfect convenient and tasty treat, without any of the residual guilt from eating a chocolate bar.
What are your best sellers and have these changed over the years?
We started with four flavours when we launched in Ireland, there are now eight and we're continually developing new concepts to keep up with ever increasing demand.
We are currently working on over 35 pieces of new product development, so this is hugely important to us. From very early into the journey, however, Peanut & Caramel was a strong leader in the Fulfil range and this is being replicated in our export markets as well.
How do you promote and market your products?
'Bars with Benefits' is our brand mantra. Shifting lifestyles and health awareness, particularly amongst millennials, means 50 per cent of consumers now want healthier products in stores.
This is why we created Fulfil; Tom and I wanted to launch a better for you snack that was tasty as well as beneficial. Fulfil has low sugar, a full multivitamin and 20g of protein.
From a marketing and promotion point of view, in this category you have to be a moving target, as it is highly competitive. Our philosophy is that you have to entertain your consumers and innovate with new products and flavours to maintain interest and excitement. Our customers are constantly asking us 'what next?', which is a great position to be in.
How has the industry changed since you've been working in it?
Since we launched the brand, we have seen a huge surge in protein bars entering the market in reaction to increased health awareness. Although Fulfil contains 20g of protein, we don't actively market it as a protein bar which only appeals to body builders and sports people. Fulfil straddles the confectionery and health food categories and in a way, merges the line between them, and in doing so, is creating a new category of its own.
Are there any challenges and opportunities you're seeing at the moment?
As a brand owner, you always view competition as a challenge, but it's also an opportunity.  We want to be the go-to better for you snack – which also tastes great.
We have to continue to be aggressive in our marketing and positioning to ensure that we remain top of mind, while also delivering new flavours and products to complement our existing range.
What are your plans for the future and how do you see the company progressing?
We have a lot of new product development going on at the moment and it's definitely in the pipeline for the not too distant future.
Growth will be around launching in as many global markets as we can, and in bringing out new great tasting snacking alternatives.
What is a typical day for you?
Either getting up at 4.30am to go to Dublin airport to work with distributors or retailers around the world on launching the brand. We are now selling all over Europe and have aggressive expansion plans, so at the moment my diary is filled with travel and meetings.
Or if it's an office day I'm up at 6am to go to the gym, followed by breakfast with the children and work with our team in 'Fulfil Towers' in Dublin.