How brands can maximise Easter sales online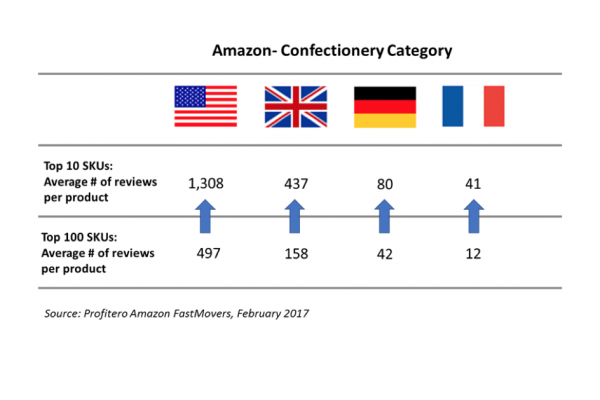 In the run-up to Easter, Cadbury and Grenade are the best-selling brands in the chocolate category on Amazon UK, new research shows.
Both Cadbury and sports nutrition specialist Grenade have 11 products each in the top 100 best-selling chocolate products in February 2017, followed by Galaxy (with 7 products), Ferrero (6) and Nakd (6), according to the Amazon FastMovers report from e-commerce analytics firm Profitero.
Andrew Pearl, director of strategy and insights for the EMEA at Profitero, explains, "The UK has the highest proportion of FMCG sales through ecommerce in Europe, and it's continuing to grow. With Amazon now dominating ecommerce with formats like Amazon Fresh, Prime Now and the Amazon Dash button, brands need to understand how they can capitalise on its site – retail's fastest growing channel."
Profitero has analysed how confectionery brands can maximise sales on the digital shelf. Here are its five key pillars:
Understand the basics of the confectionery category online
Don't just focus on your own products. Fully understanding what your competitors are doing and who the category best sellers are. One continuing trend we see across many e-commerce categories is the growth of 'challenger' brands, which are driving online sales.
Profitero's FastMovers reports highlight best sellers by category, as well as revealing important factors such as product rating, number of product reviews and average price, enabling you to monitor and benchmark your product's performance every month.
Drive discoverability through search
Best-in-class product titles and descriptions use the language that your shoppers use to describe your products. Be sure to optimise your product titles and descriptions with seasonal keywords (eg. Easter, Valentine's Day) to improve your organic performance, and consider sponsoring search results or category pages so shoppers can easily find your products.
Maximise conversion through optimised product content
Give your brand the best chance of maximising conversion on Amazon by using product images that are high resolution, front facing and with a white background. Make use of bullet points to call out key product features. Use A+ (enhanced) content, such as video and rich media, to create engaging content that builds trust and confidence with your shopper.
Increase sales through ratings and reviews
Research shows the more online reviews a product has, the higher its sales – and the confectionery category is no exception. We've analysed the 100 best-selling chocolate products on Amazon in the US, UK, France and Germany. In each of the three markets, the average product in the top 10 has significantly more product reviews than the average brand in the top 100.
Master the basics: always be available
Ensure your product is in stock. You've done the hard work of creating best quality images, optimising your titles for discoverability, and investing in keyword sponsorship – but if your products simply aren't available, you're never going to win online. The best way to do this is through daily monitoring of your stock levels via Vendor Central, or by using automated tools like Profitero.