More than just a nibble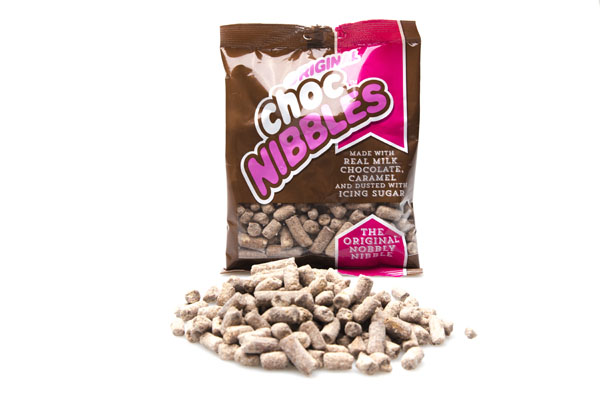 Since revealing that it was looking to expand its existing facilities or move to larger premises in Northumberland, UK, after securing contracts with two UK discount retailers at the end of last year, Choc Nibbles producer Sweetdreams is going for growth.
Its Original Choc Nibbles product has traditionally been packaged in jars, which is sold in wholesalers Hancock's Cash and Carry and Booker, and is now being stocked in a bag format at UK discount retailers B&M Stores, Iceland, Poundworld, as well as being trialled by The Range.
When starting the bagging project in March last year, Stephenson was aiming to get an order of 10,000 bags per month from B&M in March. But in the first quarter alone, the company produced 225,000 bags. Since March 2016, Sweetdreams has produced over 750,000 bags of Original Choc Nibbles.
There's no denying that Choc Nibbles is 'an ugly treat', according to Stephenson, but with the brand's latest product offering, he aims to change that view. This month, the company expanded its range with the launch of Posh Choc Nibbles.
The product, which combines chocolate, caramel, biscuits and nuts with a milk chocolate coating, is available in snack size 185g bags from B&M Stores.
Praising B&M Stores for its innovation, he says, "I was a small confectioner with an ugly product. I had lots of history in the wholesale market, but this was asking them to take something else off the shelf that is selling and put mine on."
Thanks in part to its new product, Stephenson believes Sweetdreams will post gross turnover of £1.4 million ($1.7m) for the year to the end of August, representing a 41 per cent jump on last year. This, he says, is a "moderate forecast" given that at the end of January, the group was up 69 per cent for the year.
Export opportunities
The company, which imports its ingredients from the UK mainly, as well as from France and Germany, is set to agree a sales distribution agency in Ireland this month. "That's all new business," says Stephenson. "Export is something I want to push."
Indeed, Stephenson believes the UK's decision to exit the European Union (EU) in June last year has opened up potential export opportunities. "One of the good things that has come out of Brexit is the opportunity to trade through export with our currency."
He explains, "I'm going with something that can give you more margin, more product at your price point with a product that you can't get anywhere else that's selling in its hundreds and thousands in the UK with a proven track record. It's very rare in sales you get that opportunity."
Although Ireland is the company's initial target market because there is no language barrier and the standards are similar, the company will look further afield if the market proves successful. "If we can get it right, the intention is then to start looking for opportunities via established agents," Stephenson says. "Scandinavia is a target because they like British confectionery, as well as northern Europe into Holland and Belgium."
Industry changes
Having previously worked in the packaging industry, Stephenson has seen change in both sectors he has worked in. He notes, "In terms of the packaging of confectionery, there's a lot of small and medium-sized enterprises (SMEs) that have disappeared."
Talking about sugar and chocolate, he adds, "The big boys have got bigger, the small boys have found it harder. I think there are some gaps in the market now for some traditional small, flexible manufacturing."
The discount sector has also changed the industry, according to Stephenson, noting that smaller brands are now getting prime spots next to blue chip brands, but they're not having to pay for it. They're just having to get the product right and that's been the big change. "We are just grabbing hold of that," he notes.
Target customer
"If you look at the history of Sweetdreams, we were built on your traditional wholesaler selling it [Choc Nibbles] in a 3kg jar and that was for the first seven or eight years our target," he notes. "Now I'd argue that any wholesaler of any value in the confectionery market either knows about us and buys a small amount from us or buys a lot from us."
Talking about the company's move into the discount retail sector, Stephenson says, "Sweating this wholesale market was perfect for me. It didn't require too much effort as I could sell to only ten to 15 people and get national coverage."
However, he adds, "We spent a long time focusing on this wholesale market and we had reached our peak. Even I could see, there was very little elsewhere we could go."
This prompted Sweetdreams to change its business model and look at entering a sector it was not familar with. "It's got to be three or four years ago now when the discount sector started rising and so we said that's the obvious target," he says. "I spent six to 12 months working out whether my product would work in its current state."
This is why the group created Choc Nibbles in bags and subsequently Posh Choc Nibbles, as Stephenson notes, "I felt that if we were going to succeed, we needed an innovation. We couldn't just say here's a product which has been around for 30 years."
Expansion
Another opportunity for the confectionery manufacturer is its product range for the discount sector, according to Stephenson.
In addition to this, the company is set to move to a 20,000 square foot factory by the summer, from its existing 9,500 square foot one. "The factory move is a massive opportunity," he notes. "We are doubling in size and my intention is to look for more opportunities within confectionery manufacturing, this could be new technology again."
It is also looking to collaborate with small manufacturers to work under the Sweetdreams banner. With the bigger facility, Stephenson says there is also an opportunity to diversify into new product categories. "I want to go into ice cream [and] I want to go into ingredients."
He adds, "We are talking to an ice cream manufacturer about creating an inclusion, which might need us to make it a bit smaller in shape."
But enjoying what he does is also key, according to Stephenson. "I'm going to really enjoy myself because we're building up a core business which is sustainable and we're growing. I'm going to sit back and say right, what do I want to do next. It will be fantastic and it will be fun. We'll go out and if it doesn't work, it doesn't work. If it does work, we'll carry on and we'll do it with partners."
Typical day
"I have some things that I do every single day. I take the kids to school then I go to the gym. That's constant and it has been since I started this."
There are three activities that Stephenson does every day without fail. "I check our raw materials, credit control and our cash on a daily basis," he explains. "They are the life blood of this business."
He adds, "I've got three priorities: are people paying me? Have I got enough money in the bank? Have we got more than enough raw material? After that, I'm looking for where I'm going to be in three to six months – that's how I spend my day."