Fudge mania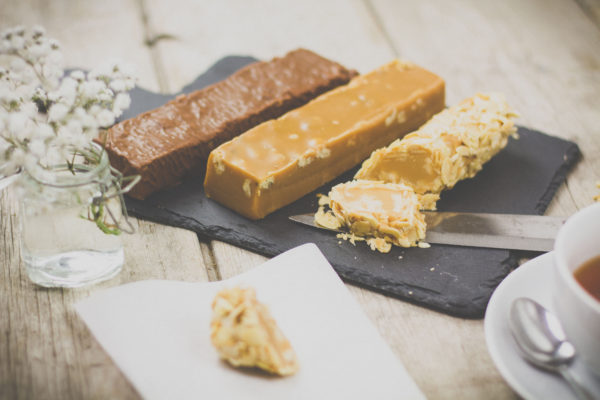 What is the background to the brand?
Buttermilk is a family business, born and bred in Padstow, Cornwall, in 1964, now run by David and I. All our treats are handmade in-house by our craft confectioners. Stirred over open flames in traditional copper pans, our skilled team blend ingredients to create irresistible treats.
The traditional methods we use have been the same since we started 50 years ago, but our kitchen has just got a lot bigger. We make fudge, tablet, brittle, honeycomb and chocolate clusters.
In 2015, we rebranded and launched a new range so we could better communicate our brand story, the quality of our products, and launch nationally while appealing to consumer needs.
What type of outlets do you sell through and do you plan to expand this?
We have our two shops in Padstow and Port Isaac, plus our website. Our local range is stocked in many delis and gift shops in the south west of England, while we have a premium range for farms and delis across the country and a sharing range for the multiples. We also export using distributors in Europe and further afield. We are excited about bring Buttermilk to even more places in Britain and beyond in the years to come.
Who is your target consumer?
Our core target audience is females with families, but our products appeal to anyone who likes an occasional indulgence. Our treats appeal to people looking for artisanal confectionery made with kitchen cupboard ingredients. When they are going to spoil themselves or friends, they want the best quality.
What are your best sellers and have these changed over the years?
In recent years, Caramel and Sea Salt has become a top seller. It just works. The mix of savoury and sweet is an absolute winner. Being a small batch manufacturer we are able to play with lots of seasonal short runs and limited editions, which makes things fun as chief taster. Mince Pie is proving very popular this year for Christmas sales.
In terms of range format we have introduced a snack range which is perfect for consumers looking for a little treat – they are under 70g so ideal for one person. We have also launched premium gift boxes to take on the classic chocolate box.
How do you promote and market your products?
We are taking Buttermilk on the road. We are attending lots of consumer events across the UK so people can try our products and chat to us about our brand story. We often meet people who have been to our shops and it evokes holiday memories for them. We also attend trade events so we can meet buyers and have a growing online presence. Working with wholesalers is also a key part of our strategy to ensure we can service farms and delis in the best way possible.
 How has the industry changed since you've been working in it?
There are more companies creating brands with products manufactured by others, offering a range things. Buying opportunities have changed with people's behaviours changing to culture and recreation.
Are there any challenges and opportunities you're seeing at the moment?
We tailor our ranges around consumer states. I think it is a great thing for us that people are aware of watching what they eat, so when they want the odd treat they are going to trade up and pick something they know is a handmade craft recipe with ingredients they will have in their kitchen cupboard.
What are your plans for the future?
We are learning all the time as a team, which is essential for a growing business if you have the right team. Change is our state of 'normal' and has people commenting on how much we can get done very quickly. Moving all parts at the same speed is a skill I am working on.
 What is a typical day for you?
I am lucky that variety is part of my day as I don't like sitting still too much. I start with the things I least want to do and work to a strict to do list. Then I get into other things, mostly I like to be available to the motivated team I am lucky enough to work with.